JACS Teaching Tools and Methods
You'll become actively involved in fun and interesting conversations, articles and more - rich in native dialog, sound, animation and video - while building your proficiency in Japanese.
Some teachers give you long explanations with no practice examples; you just read the textbook and try to write answers. Instead of giving you results, this kind of lesson just wastes your time. We have made the main focus of our study system to be as effective as possible in a short period of time.
Our original materials and impressive teaching system promises to improve your Japanese ability quickly and effectively.
Our Japanese lessons are based on various scenes that you'll encounter in daily life - giving you real communication skills that will never disappoint you.
The Japanese As Communication Service Institute gives you many real - world examples in every class to help you speak naturally, and supports you until you have a good command of Japanese.
Multimedia Materials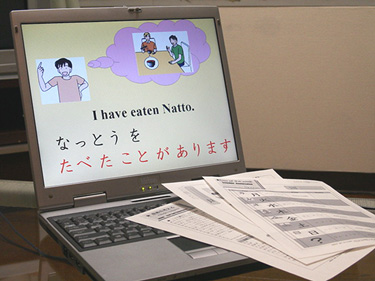 JACS classes are controlled by the latest computer technology. Teachers use computers to show presentations, movies computer-generated animations and MD recordings in the classrooms.This cutting-edge multimedia will improve your Japanese learning dramatically.
Your Own Curriculum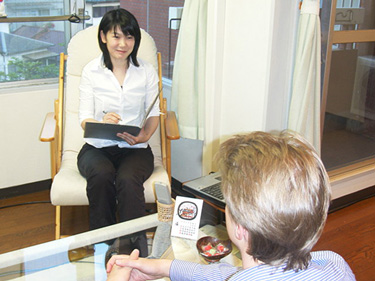 For sports athletes, the best way to train effectively is to tailor their own training schedule to fit their physical characteristics, strengths and so on. It's exactly the same for language study.
What's the purpose of your study?
What kind of Japanese do you want?
What pace do you want to go at?
We conduct a student interview with you to determine this information, then devise a curriculum to fit your needs.That's why you can expect effective lessons and a noticeable improvement in your Japanese ability.
Individual Review System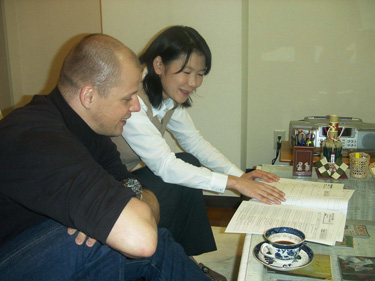 At most language schools, you are taught a lot of vocabulary and phrases in the lesson and expected to memorize them all by yourself before the next lesson. Realistically, can anyone do this regularly on their own with a full-time job? We came to the conclusion that students need more practical review time.
At JACS, all students take the Individual Review System as well as their normal lesson. IRS involves oral training with experienced instructors, enabling you to reproduce all the words and phrases introduced in lesson at the same speed as a native Japanese speakers, in order to get you using them reflexively in relevant situations.
Professional Teachers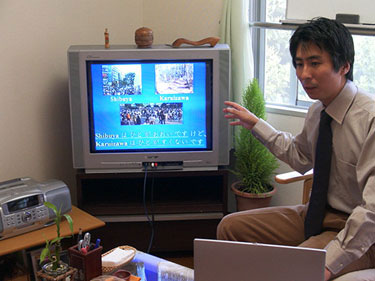 At JACS, our staff are professional teachers rich in experience and well- versed in Japanese society, culture and customs. We support all levels, from children to business people.