We ask our students, "Did your school teach you how to communicate effectively with Japanese speakers?

"I used the phrases I had been taught at school, but he didn't understand me."
"I have difficulty using the phrases I know with any fluency."
"I can read well, but I cannot understand spoken conversations."
We often hear these kind of complaints. That's because textbooks never properly address how to communicate with Japanese speakers.
At JACS, you'll be able to learn Japanese as a communication tool, helping you interact more fully with Japanese society and culture.
Voices
"I have always been impressed by the professionalism of both instructors I have and of their ability to make every lesson useful and part of a regular progression into more complex grammatical structures."
Read More...
Louis Gaetan, Canada
Diplomat
"There is probably no effortless way to learn Japanese, but with JACS it is certainly a lot more fun and I know that I'm constantly improving."

Read More...
Jens Johansson, Sweden
OEM Manager Japan, AXIS Communications
"
The environment at JACS is a quiet oasis, conductive for learning and the use of audio/video in the classes is a great benefit. Since my study time is limited..."
Read More...
Kylie Schuyler, USA
Homemaker
Read Other Student's Voices
Students From Around The World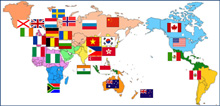 (
Click To Enlarge
)