Did school teach you how to communicate effectively with Japanese speakers?
「読めばわかるのに、相手が話しているのはわからない」
「学校で習った通りに話したのに、相手が怒ってしまった」
「習ったフレーズが口から出てこない」
そんな声が多く聞かれます。
それは、あなたの教科書が日本人とコミュニケーションを取る方法まで教えてくれなかったからでしょう。
JACSでは日本社会や文化まで含めたコミュニケーションとしての日本語を学びます。
生徒の声(英語のみ)
"I have always been impressed my the professionalism of them and of their ability to make every lesson useful and part of a regular progression into more complex grammatical structures."
全文を読む...
Louis Gaetan, Canada
Diplomat
"There is probably no effortless way to learn Japanese, but with JACS it is certainly a lot more fun and I know that I'm constantly improving."

全文を読む...
Jens Johansson, Sweden
OEM Manager Japan, AXIS Communications
"
The environment at JACS is a quiet oasis, conductive for learning and the use of audio/video in the classes is a great benefit. Since my study time is limited..."
全文を読む...
Kylie Schuyler, USA
Homemaker
他の生徒の声を聞く
Students From Around The World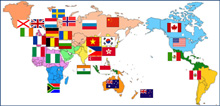 (拡大図はこちら)